Secure Your Car Anywhere, Anytime with Our Advanced Security Camera System
In today's digital era, security transcends beyond our homes and extends to our valuable assets, like our cars. With the rising statistics of vehicle thefts and vandalism, it is crucial to take proactive measures to secure your automobile, whether you're at home or on the road. This is where our advanced security camera system comes into play, providing comprehensive surveillance and safeguarding your car from unforeseen circumstances. In this blog post, we will delve into how our cutting-edge car security camera system can help you monitor and protect your car 24/7 from anywhere in the world.
Why Do You Need a Car Security Camera System?
While traditional car alarms and steering wheel locks have their place in car security, their effectiveness often wanes when pitted against increasingly sophisticated car thieves and vandals. Our advanced security camera system fortifies your car's security armor, sealing these cracks and providing a robust and holistic security solution.
Active Deterrence: The presence of a visible security camera acts as a psychological barrier. The fact that their actions could be caught on camera often discourages potential thieves or vandals, reducing the likelihood of an incident before it occurs. The mere sight of our cutting-edge security camera, designed with a sleek but noticeable profile, is enough to make miscreants think twice before approaching your vehicle.
Evidence Gathering: In the unfortunate event of theft or damage, the evidence captured by a security camera is invaluable. High-resolution recordings provide critical details, helping to paint an accurate picture of the incident. Whether it's identifying the thief's face or the time of the incident, this footage becomes instrumental in aiding law enforcement in their investigations and facilitating your insurance claim process.
Real-time Surveillance: Our system is not merely a camera-it's your personal security guard that never sleeps. Equipped with sophisticated motion detection algorithms, it provides 24/7 surveillance and sends real-time alerts to your phone via a dedicated app whenever unusual activity is detected around your vehicle. This empowers you to respond immediately to potential threats, no matter where you are, effectively bringing car security to your fingertips.
Peace of Mind: Perhaps the most underrated yet significant advantage is the peace of mind that comes with knowing your vehicle is secured. With our system, you can rest assured that your vehicle is under constant, vigilant surveillance. It's like having a security guard who never blinks, tirelessly keeping watch over your precious asset.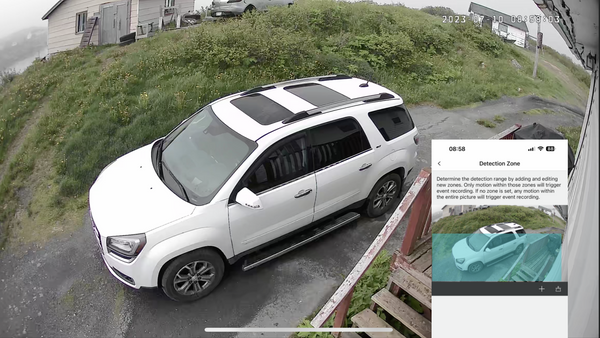 7 Features of Our Advanced Security Camera System
Our car security camera system is more than a gadget-it's a formidable fusion of technology and innovation, packed with features designed to ensure the safety of your vehicle.
High-definition Video Quality: We believe that in security, every detail matters. Our cameras deliver superior high-definition video quality, capturing every frame with exceptional clarity. Whether it's the unique tattoo on a car thief's arm or the fleeting glimpse of a hit-and-run driver's license plate, the high-resolution footage ensures you don't miss a thing.
Night Vision Capability: Night-time often provides cover for illegal activities, but with our advanced infrared technology, criminals have nowhere to hide. The cameras produce clear and sharp video footage, even in pitch-black conditions, turning the veil of night into yet another tool for your vehicle's protection.
Real-time Alerts: Your security shouldn't lag, and with our system, it doesn't. The moment the camera detects unusual motion, it sends an instant alert to your smartphone. This prompt information flow allows you to react swiftly to potential threats, thereby increasing the chances of averting damage or theft.
Two-way Audio: More than just a passive observer, the system is designed to be interactive. If you spot someone suspicious around your car through the camera feed, you can directly communicate, or in some cases, confront them via the built-in speakers. This active intervention could potentially deter criminals then and there.
Cloud Storage: Our security solution ensures that your footage is safe and accessible. All videos are securely stored in the cloud, allowing for access at any time and from anywhere. This remote availability eliminates the risk of losing vital footage and makes retrieval a breeze when needed.
Weather Resistant: A robust security solution is one that performs under all conditions. Our cameras are encased in a durable, weather-resistant cover, ensuring that come rain, sunshine, or snow, your security remains uncompromised.
Easy Installation: Our security system is designed to be user-friendly. The installation process is simple, and the camera itself is flexible to be positioned in various locations, whether it's your garage, driveway, or the street parking spot outside your apartment. This ease of use, coupled with its robust capabilities, makes our security camera system the best guardian for your car.
Conclusion
In conclusion, our advanced car security camera system offers an unmatched blend of active deterrence, real-time surveillance, and high-quality evidence collection. Whether parked in your home garage or in a public parking lot, the camera stands as a formidable guard, ensuring that your vehicle is secured anywhere, anytime. With this system in place, you can navigate your daily life with the reassured confidence that your car's security is uncompromised.
Read More